ETON FOOTBALL - RUGBY SCHOOL - RUGBY UNION - OTHERS - NEWSPAPERS
RUGBY UNION
1845 - FOOTBALL RULES 1845 - Facsimile edition of the 1845 Football at Rugby School rules. published by Rugby School in 2015 - FORU
1867 - ROUTLEDGE'S HANDBOOK OF FOOTBALL - published in 1867 by George Routledge and Sons. - RHBF
1883 – FOOTBALL ANNUAL edited by Charles Alcock, published by The Cricket Press
1885 - FOOTBALL – IT'S HISTORY FOR FIVE CENTURIES by Montague Shearman & James E Vincent, published by Field & Tuer in 1885 - MSFC

1887 - ATHLETICS & FOOTBALL by Montague Shearman, published by Longmans Green & Co, London, part of the Badminton Library Series in 1887 - MSAF
1894 - FOOTBALL - THE RUGBY UNION GAME by Reverend Frank Marshall (2nd edition), published in 1892, 1894 & 1925 (with Tosswill) - FMRU
1897 - THE ORIGIN OF RUGBY FOOTBALL, report (with appendices) of the sub-committee of the, Old Rugbeian Society appointed in July 1895 - ORSR
DAVIES TO WILSON LETTERS - PRINTED AND BOUND WITH THE ORIGINAL CORRESPONDENCE
1899 - FOOTBALL by Montague Shearman, published by Longmans Green & Co, London, part of the Badminton Library Series in 1899 - MSFT
1903 - RUGBY UNION FOOTBALL by Captain Philip Trevor "Dux", published in 1903 - PTRF
1949 – "THE HISTORY OF THE LAWS OF RUGBY FOOTBALL" – prepared by Admiral Sir Percy – printed by Walker & Co, Twickenham - APRL
1969 - CENTENARY HISTORY - OXFORD UNIVERSITY RUGBY FOOTBALL CLUB 1869 - 1969 by Ross McWhirter & Sir Andrew Noble published in 1969 - RMOU
1971 - A HISTORY OF RUGBY - by Wallace Reyburn - published by Arthur Baker Ltd, London in 1971 - WRHR
1978-79 - WELSH RUGBY UNION HANDBOOK - WRUH
1979 THE WORLD OF RUGBY by John Reason & Carwyn James, published in 1979 by the BBC - JRWR
1987 - THE PHOENIX BOOK OF INTERNATIONAL RUGBY RECORDS by John Griffiths published by JM Dent & Sons Ltd, London, 1987 - JGPR
1991 – "RUNNING WITH THE BALL – THE BIRTH OF RUGBY FOOTBALL" by Jenny Macrory, published by Collins Willow in 1991 - JMRB
1999 THE UNION GAME - A RUGBY HISTORY by Sean Smith, published by BBC Worldwide in 1999 - SSUG
1999 - WEBB ELLIS - FICTION or FACTS by Floris van der Merwe, published in 1999 - FMWW
2006 - A GAME FOR HOOLIGANS - THE HISTORY OF RUGBY UNION by Huw Richards published by Mainstream in 2006 HRGH
2015 - THE OVAL WORLD - A GLOBAL HISTORY OF RUGBY by Tony Collins published in 2015 - TCOW
2015 - THE SHARED ORIGINS OF FOOTBALL, RUGBY AND SOCCER by Christopher Rowley published in 2015 by Rowman & Littlefied - CRSO
2016 - WRSS & RFUS - Screenshots
RUGBY SCHOOL
1849 -RUGBY-SCHOOL-REGISTER-1675-1849 - RSRE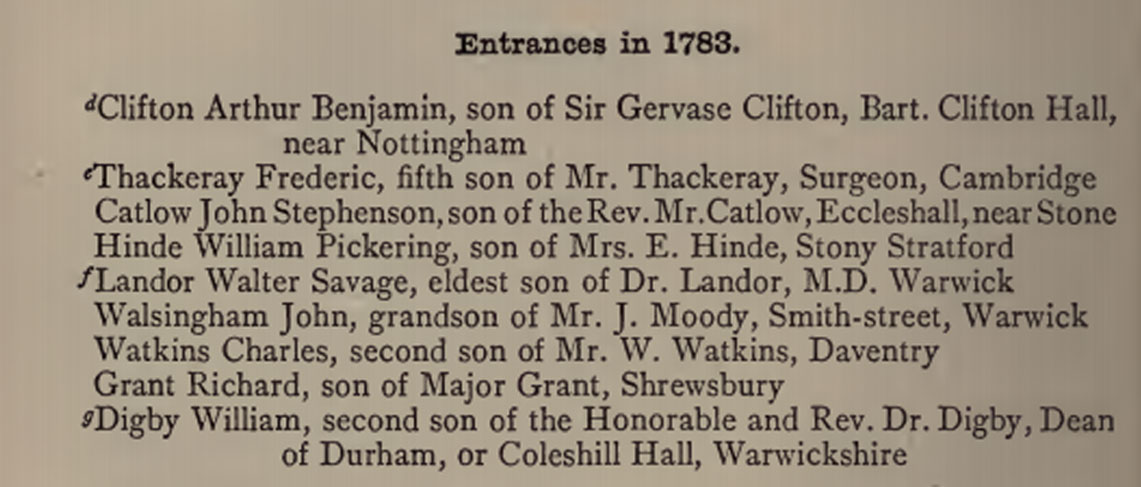 1875 - "MACREADY'S REMINISCENCES AND SELECTIONS FROM HIS DIARIES AND LETTERS" by Sir Frederick Pollock, Bart (one of his executors), published by MacMillan and Co 1875 - MRFP

1876-1880 - THE METEOR - ORIGINAL ARTICLES OF MATTHEW BLOXAM
1883 - THE RUGBY SCHOOL NATURAL HISTORY SOCIETY REPORT - ORIGINAL ARTICLE OF MATTHEW BLOXAM
1889 - RUGBY THE SCHOOL AND NEIGHBOURHOOD collected and arranged from the writings of the late Matthew Holbeche Bloxam, O.R., F.S.A., by the Rev. W.H. Payne Smith, M.A. published by Whittaker & Co, London 1889 - MBRN

1898 - "History of Rugby School" by WHD Rouse, M.A. published by Duckworth & Co, London - WRRS
1900 - William Webb Ellis plaque at Rugby School - RSPQ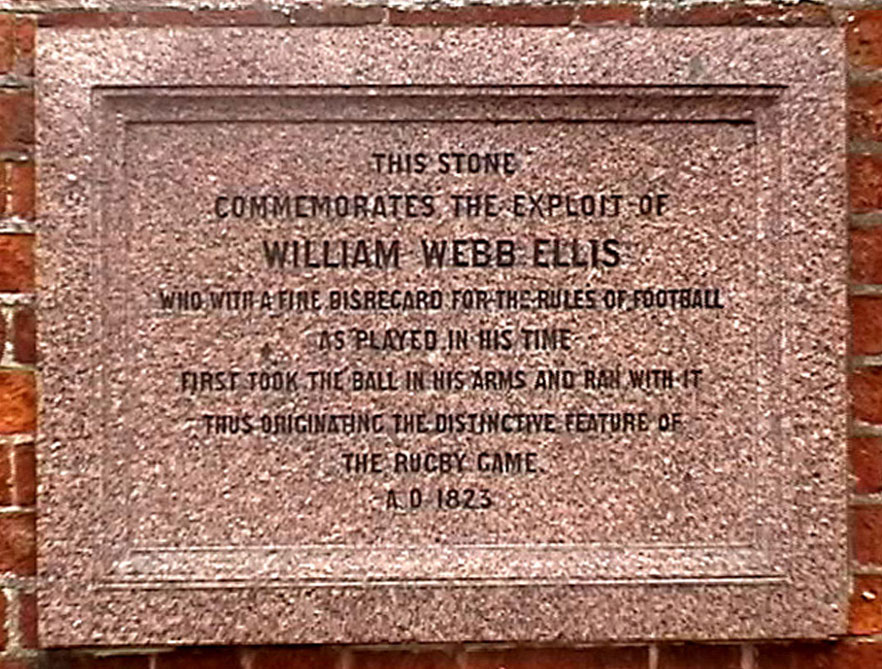 1900 – "RUGBY" – by H C Brady B.A. published by George Bell and Sons, London, 1900 part of the Handbooks to the Great Public Schools Series - HCBR
1927 – MY LIFE AND TIMES BY NIMROD (Charles Apperley), edited with additions by E D Cuming, published by William Blackwood and Sons Limited, London & Edinburgh. - CALT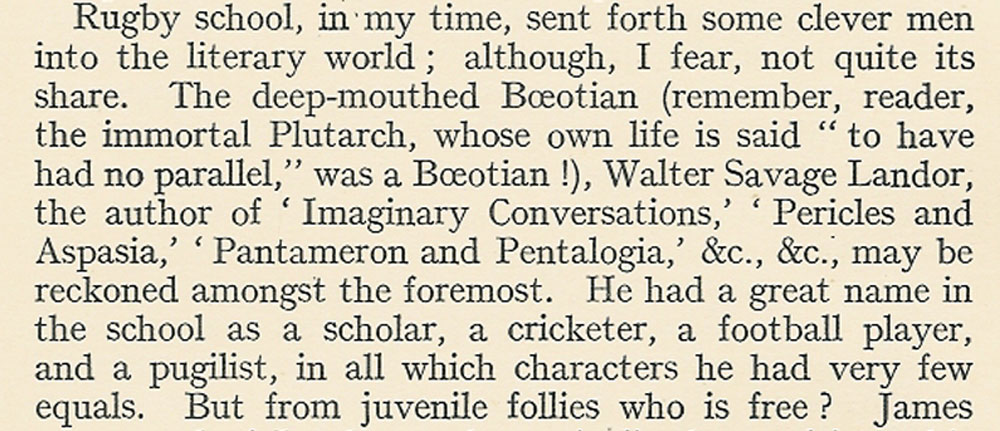 Earliest mention of Football at Rugby School circa 1783-1790
ETON COLLEGE
1581 - 'Positions Wherein Those Primitive Circumstances Be Examined, Which Are Necessarie for the Training up of Children by Richard Mulcaster 1581 - RMPW

CLICK HERE TO VIEW THIS BOOK ON-LINE
1766 - NUGAE ETONENSES
1766 - AN ACCOUNT OF THE ETON DISCIPLINE & EDUCATION by THOMAS JAMES
1911 - "A History of Eton College" 1911 (4th edition) by Sir H.C. Maxwell-Lyte, K.C.B - MLHE
1917 – "MEMORIES OF ETON" by Arthur Campbell Ainger, published by John Murray, London in 1917 - AAME
2013 – "THE FIELD GAME" by Lachlan Campbell published by Essential Works Limited in 2013 - LCFG
2000 - OXFORD POPULAR ENGLISH DICTIONARY - OPED
LEVS = LONDON EVENING STANDARD
TIME = TIMES
COMPARISION OF FOOTBALL AT RUGBY SCHOOL 1845 AND ETON FOOTBALL 1847
and just for fun......................
THE ORIGIN of RUGBY MYTH No 1 - BIBLE - And on the eighth day God created football and thanks to Noah storing a set of posts on the ark it survived to the current day. Unfortunately Noah forgot to pack the ball and for the animal called Rugby, God took it's bladder and made a ball, whereupon it's mate was left to die alone and the species was doomed to extinction
THE ORIGIN of RUGBY MYTH No 2 - ALIENS - It is impossible for children to have invented a game as complex as Football at Rugby School. It is thought that alien invaders from the planet Romanus Romanii from the galaxy Centurionus left a 'sleeper' behind when they were repelled by earth dwelling natives in the year 406AD. This 'sleeper' awoke from inside a tree at Rugby School and retaught the native children this game.
www.world-rugby-museum.com is supported and hosted by www.rugbyrelics.com